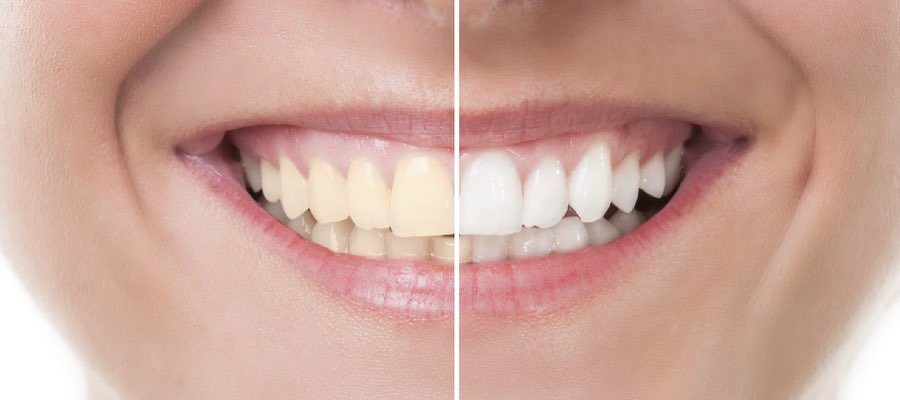 Pearly white teeth are a strong indicator of youth, beauty and confidence, but smoking, food, some drinks and even the hands of time often cause a smile to look less than its best. To remedy this, one of the most popular cosmetic dentistry options is whitening. Whiter teeth restore self-esteem, make you more attractive to others and improve social and business relationships as well as many other areas of your life. The Oso Marguerite Dental Team in Mission Viejo proudly offers teeth whitening that is effective, convenient and affordable. Our professional treatment plans are appropriate for many clients, sometimes even those with fillings, crowns or veneers. Consult with Dr. Kamila or Dr. Botros, your chosen dental professionals to discuss a whitening regimen while ensuring safety and effectiveness.
The Teeth Whitening Process
As with all services provided by Dr. Kamila and Dr. Botros, there is not a one-size-fits-all approach to teeth whitening. The Oso Marguerite Dental Team will evaluate your teeth, discuss your goals and assist you making the best teething whitening choice. Some of the options available include:
In-office Teeth Whitening. For patients who desire convenience and more immediate results in the comfort of our office, this is often an excellent choice. Teeth whitening can be completed in a single visit, often achieving a visually stunning smile and teeth that are several shades whiter.
Take-home Teeth Whitening. Patients who prefer to whiten their teeth at home or who have harder to remove stains receive a custom whitening experience with our personalized trays. Convenient for busy individuals or those with at travel schedule that makes it more difficult to schedule an in-office whitening experience, take-home whitening delivers a professional strength whitening gel solution that can be applied whenever it is convenient for the patient. This option provides a custom whitening experience, and desired results are ordinarily achieved after 1 week – 1 hour a day whitening regimen.
Ready-to Go Teeth Whitening. Cost effective teeth whitening is at your fingertips with prefilled and disposable trays. Used 15 minutes per day, these ultra-fitting trays conform to patient's teeth and offer a convenient and effective introductory whitening system. Choose this professional alternative to less-effective retail over-the-counter kits for superior results that are safe for most mouths.
Internal Teeth Bleaching. When an individual tooth is damaged or stained, many patients notice the imperfection, smile less often and lack self-confidence. The Oso Marguerite Dental Team offers individual tooth whitening via internal bleaching to improve color and harmony of a patient's smile. This option is implemented to improve esthetics and is a conservative treatment option versus fitting a porcelain crown.
Frequently Asked Questions
I have heard it is bad for the enamel of my teeth to whiten them. Is this true?

The professional methods and products used by Oso Marguerite Dental to whiten your teeth are safe. They will not cause any damage to the enamel.

How long does professional teeth whitening last?

The amount of time teeth will stay white varies by individual. Typically, you can expect results to last anywhere from six months up to two years. In some cases, results can last significantly longer. Avoiding tobacco products, red wine and coffee often helps to preserve the beautiful results.

After my teeth whitening procedure, I experienced some new sensitivity. Is this permanent?

Sensitivity following professional teeth whitening is normal for some individuals, but it is not permanent. In most cases, any new sensitivity will diminish over the first one to two days, and the individual will return to their previous level of sensitivity. Should your sensitivity last longer, please contact Oso Marguerite Dental for advice.

My teeth are yellow, and I would love to enjoy a brilliant smile. How can I achieve this?

Making some changes to your diet including brushing and flossing twice a day and reducing or eliminating coffee, tea, red wine and tobacco can help to whiten your smile. To see the best results, professional teeth whitening is often necessary. To learn more about our innovative whitening techniques, contact Oso Marguerite Dental and schedule a consultation.