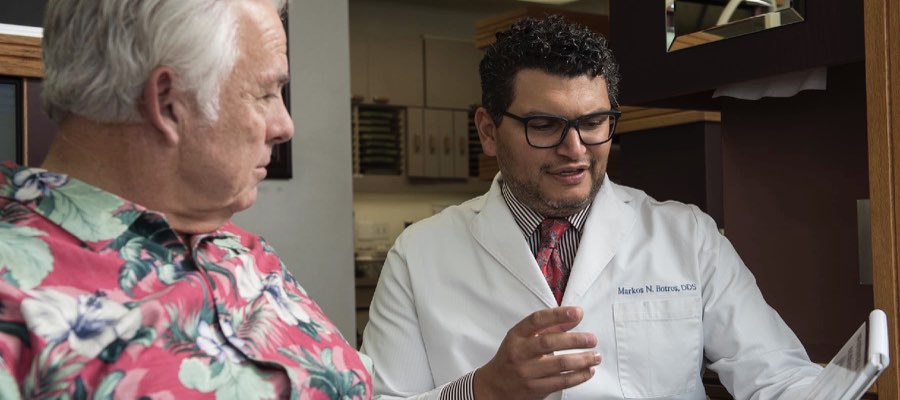 The American Dental Association recommends a checkup every six months and more often under specific circumstances. In support of this recommendation, the Oso Marguerite Dental Team of professionals serves your entire family with friendly, comprehensive dental checkups in an environment you can feel comfortable in. Along with brushing and flossing daily, visiting our office on a regular schedule will help maintain oral health and support heightened self-esteem and a healthy, active and vibrant lifestyle.
The Dental Exam
The Oso Marguerite Dental Team takes a holistic approach to dental care and helps our patients to realize optimum health while making every experience a positive one. This approach encourages patients to return to our office as necessary and maintain optimum dental health.
While checking the mouth for tooth decay is a large part of any dental exam, looking at the gums and checking the head and neck are also important. Telltale signs of diabetes, vitamin deficiencies and cancer exist in the mouth, and Dr. Kamila and Dr. Botros use their knowledge of oral health and high level of expertise to detect any potential problems and make effective treatment recommendations. Your dentist will also check saliva levels, the bite and how the jaw moves. Once this is completed, our team will answer any questions, proceed with a thorough teeth cleaning and advise you on any further care recommendations.
The Oso Marguerite Dental Team takes great care to recommend only diagnostic aids that are truly necessary, considering benefits versus and doing all we can to ensure both your comfort and safety.
Your examination will include the following steps:
A check of the neck and face
A check of the jaw and lymph nodes
Inspection of the gums and other oral tissues for deterioration or disease
A check for loose or broken teeth, damaged fillings, decay and how the teeth contact each other
Evaluation of any dental appliances
Radiographs
DIAGNOdent
Identifying oral health concerns in their earliests stages is one of the most important things the Oso Marguerite Dental team does to assist our patients. To do this effectively, we use innovative dental technology in our office including the DIAGNOdent laser caries detection aid.
DIAGNOdent is an FDA and ADA approved device that assists dental professionals in detecting caries in the softer dentin layer beneath the outer tooth enamel. This class 1 laser emits safe, pain-free pulses of light through the surface of the tooth. The results of the reflected fluorescence of the tooth structure are then compared to the established baseline reading to uncover tooth decay. As decay is detected by the machine, an audio signal alerts our dentists so we can take proper measures to correct the problem.
While DIAGNOdent is not a replacement for your normal oral hygiene exams, it is an effective adjunct that helps us to detect more dental caries in their earliest stages so we can develop the most effective, comfortable and convenient treatment plans for our valued patients.
VELscope
Another powerful diagnostic tool used by the OMD team is the VELscope. This wireless, handheld scope uses natural tissue fluorescence to enhance visualization of any abnormalities in the mouth tissue. Healthy mouth tissues fluorescence in very distinct patterns under the blue-spectrum light. When these patterns are disturbed, it can indicate the earliest stages of oral cancer. Using the VELscope empowers our dentists to detect concerning oral abnormalities early which helps our valued patients to receive prompt diagnosis and treatment so they enjoy longevity and a higher quality of life.
The VELscope is non-invasive and does not use any rinses or dyes. Use of this device is incorporated into all oral hygiene exams at OMD and requires only an additional one to two minutes of our patients' valuable time.
Teeth Cleaning
The final step of a routine dental exam is teeth cleaning. During this procedure, built-up, hard to reach tartar and plaque will be removed by the dentist or hygienist, and the teeth will be flossed and polished to a bright shine. Because we understand the importance of open communication and the inclusion of patients in their oral health care, education on how to improve daily oral care through brushing, flossing and by using appropriate dental rinses is a regular part of all cleanings. Advise about any other work that may be required, such as restoration, is provided when necessary, and patients are encouraged to ask questions so they fully understand all options and feel confident about the advised treatment plan.
Oral health has a major impact on your overall health, self-esteem and quality of life. Seeing a dentist twice per year for a thorough examination and cleaning is the easiest way to avoid serious dental problems over the long term and eliminate or reduce the need for invasive, expensive procedures. The Oso Marguerite Dental Team's comprehensive dental checkups are built upon the highest standards of dental care and support you in achieving a healthy, confident smile and all your other oral health care goals.
Frequently Asked Questions
My teeth feel fine. Why is a checkup necessary?

Your teeth may feel fine, but that is not always an indication that no problems exist. Some dental concerns present before any symptoms are noticeable. Detecting these problems early often makes it possible to remedy them using the least expensive and least invasive options. Dental checkups also provide Oso Marguerite Dental with opportunities to share healthy oral hygiene tips to keep your mouth healthy and minimize time in the dental chair.

How often should I schedule a dental checkup?

The American Dental Association recommends dental checkups at least once every six months for children and adults with healthy teeth and gums. Patients with more extensive dental concerns, a history of oral cancer or those who are at higher risk of gingivitis may need to come in more often. Discuss this concern with the staff at Oso Marguerite Dental for the most personalized response.

If I have braces, is it still necessary to schedule checkups every six months?

Yes. In fact, maintaining good oral hygiene is sometimes more difficult for individuals with braces because food might get caught in places your toothbrush cannot reach. This can lead to an accumulation of bacteria and resulting gingivitis, cavities or tooth loss. Oso Marguerite Dental will work with you to develop an effective treatment plan that helps you to maintain good oral hygiene while wearing braces.

How do I schedule my next dental checkup?

Simply call Oso Marguerite Dental to schedule an appointment. Our front desk staff will check the calendar and find a day and time that fit perfectly in your schedule. If you are a new patient, please make us aware of that during your call so we can schedule an appropriate amount of time for your first visit.