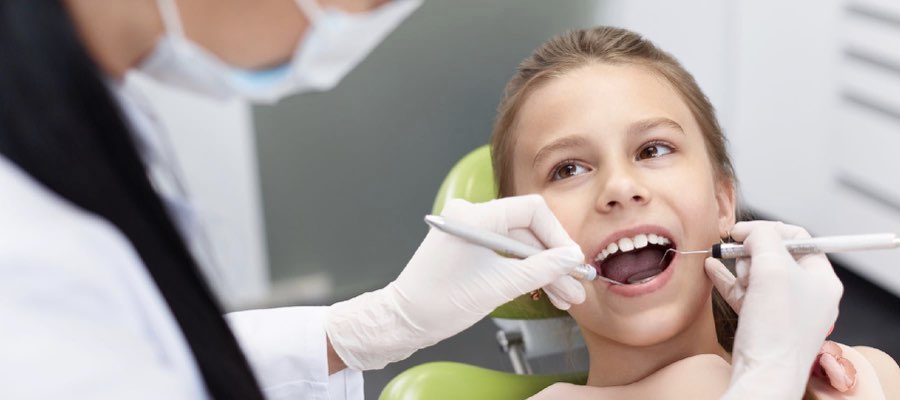 The Oso Marguerite team in Mission Viejo believes that all children benefit from quality dental care. To make this convenient for families, our office treats the entire family, including the oral health needs of children. The American Academy of Pediatric Dentistry recommends all children see a dentist by their first birthday. Establishing a dental home at this early stage of life encourages families to continue visiting the dentist for proper oral care and means the child is more likely to receive proper preventative care and prompt emergency assistance, if necessary. The first teeth appear at the age of six months, and this is the ideal time to visit a dentist for an initial inspection of the teeth, to educate parents on home oral hygiene needs and help the child feel increasingly comfortable in the dental chair. A child's first teeth typically remain until about the age of seven when they fall out and are replaced by the permanent teeth. Children who do not receive quality dental care in their early years can develop decay and other painful problems. They may also lose baby teeth prematurely. This can cause other permanent teeth to drift into the space in the jaw and make it difficult for teeth to find the space they need as they emerge in the mouth.
Pediatric Dental Treatment
A child's first visit to the dentist is sometimes intimidating, and children's mouths are special! At OSO Marguerite, we commit to providing a positive experience for every child and working to keep the teeth strong and healthy. Our office provides preventative care and emergency care to children of all ages in a comfortable setting and while using the most advanced dental technology and equipment. Parents feel confident in the care that their children are receiving in the gentle yet talented hands of Dr. Kamila who received extensive pediatric dentistry training at Woodhull Medical Center in Brooklyn, NY. The services she provided include:
Examination for infants. This includes an assessment for cavity risk in both the child and the mother.
Preventative care. This not only includes regular cleanings and fluoride application but also nutritional advice to keep the child's mouth healthy.
Oral habit recommendations. This step can help a child break negative habits such as thumb sucking or dependence on a pacifier.
Restorative work or repair. This covers fillings, congenital defects, and knocked-out teeth as well as straightening and bite correction.
Diagnosis and management of conditions as they relate to oral health. This includes asthma, allergies, ADHD, heart problems, and diabetes.
We want our youngest patients to have a rewarding dental experience and memorable first visit.
What to Expect at the first visit:
Dr Kamilia establishes many goals for a child's first visit to the dental office. First, she would like to get to know the child and develop a positive relationship from the start. Next, it is important for Dr. Kamilia to examine the child's teeth, gums and jaw and get information about the child's overall health to set a baseline for future care and detect any existing or developing concerns. Finally, she will address the parents, providing valuable information to assist the child with proper at-home oral health care, making any treatment recommendations and answering any questions they may have.
While all visits are individual depending on the needs of the child and any concerns noted by the parent, patients can expect the first visit to move along something like this:
Review of the child's health history and answer any questions parents may have.
Discussion of oral health including development, teething, how the child's teeth come together, gums and cheeks, any oral habits (thumb sucking, nursing, grinding, etc.), any trauma to the child's mouth, nutrition and fluoride.
Thorough examination of the child's teeth (lap to lap for infants and young toddlers or in the chair for older children).
Teeth are cleaned and fluoride is applied, as appropriate.
Schedule the child's next appointment and develop a schedule for follow-up care.
Frequently Asked Questions
At what age should my child first see a dentist?

The American Academy of Pediatrics and the American Dental Association recommend all children see a dentist within six months of their first tooth coming in. If no teeth have erupted by one year of age, the child should see a dentist then. This is the best way to get early information about how to properly care for their teeth and develop a treatment plan to address any early problems that may arise.

Are dental x-rays safe for my child?

Dental radiographs help the professionals at Oso Marguerite Dental to better detect problems that may not be visible to the naked eye. They allow us to address many concerns early, avoiding costly and more invasive procedures. Safeguards are always used to protect our patients including proper shielding, high speed films, digital enhancement and equipment filtering. The amount of radiation a child is exposed to is extremely low and considered safe by the American Dental Association.

How do you help keep my child comfortable during visits?

The best way to overcome fear of the dentist is by providing your child with an opportunity to get to know the staff at Oso Marguerite Dental. Our modern, comfortable office and treatment rooms are also inviting for both children and adults, making the practice a more welcoming place to spend time in. We commit to taking our time during appointments, treating your child with respect and answering any questions you or your child have before we begin and throughout the procedure. Topical anesthetics and local anesthetics are also used to keep your child comfortable when necessary.

How do I schedule my child's first dental visit with your office?

To schedule an appointment for your child, simply call Oso Marguerite Dental and speak with our front office staff. Make sure to let our friendly team member know that this will be your child's first visit so we can schedule an extended appointment, helping your child to feel welcomed and comfortable in our practice.