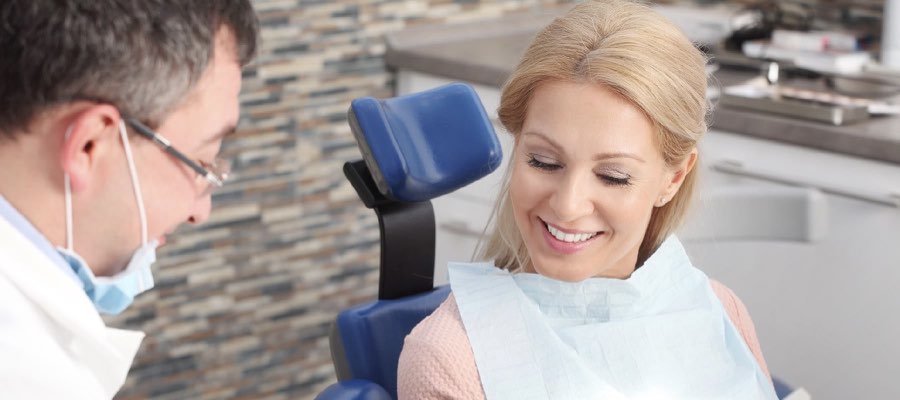 Proper dental care is not a one-time affair; rather, it develops when you make a commitment to maintaining the health and appearance of your teeth and form a relationship with a competent team of dental professionals such as the Oso Marguerite Dental Team.
An important component in building this relationship includes visiting your dentist every three to six months for a professional hygiene appointment. In addition to brushing and flossing, professional cleanings are the surest way to maintain proper oral health and build a strong foundation that supports overall health, creates a gorgeous smile and builds self-esteem.  While spending time in our office, patients can expect to receive preventative and diagnostic care from the entire OMD dental team.  The hygienist works hand in hand with your trusted doctor to provide comprehensive care that is second to none and is completely personalized to achieve optimum results and keep you feeling comfortable the entire time.
Professional Hygiene Visit
Professional hygiene appointments help create smiles that last, and they are as individual as the patients we serve. While providing you with personalized care is always the Oso Marguerite Dental Team's goal, there are some general services that are typically a part of any professional hygiene appointment. These include:
Taking a complete medical history. Your oral health is about more than just your mouth, and many medical diagnoses including diabetes, heart disease or pregnancy can impact your smile. Understanding them helps us to provide the most appropriate care and make highly beneficial treatment recommendations.
Screening for oral cancer. As advocates for health and wellness, Dr. Kamila and Dr. Botros care about their patients and want to make a positive impact on their lives. Oral cancer is found in nearly 50,000 people each year. The survival rate is only 57 percent after five years, which is why early detection is important. Oral cancer screenings are quick, pain-free and an important component in all cleaning visits at our office. In addition to a routine head and neck exam, our office utilizes the VELscope. This wireless device enhances our assessment and visualization of any oral abnormalities.
Radiographic Examination. Our offices are equipped with state-of-the-art dental equipment including digital radiography machines providing high-quality imagery while exposing patients to extremely low levels of radiation. This equipment is used to discover a baseline for future visits, evaluate the health of your smile and determine if there are caries present. Tooth decay is very destructive and is also the most preventable dental problem. Our goal is always to keep your smile healthy and beautiful without the need for invasive procedures, and digital radiographs are a valuable tool that helps us to reach that objective.
Bite Evaluation.  Dental care is about the entire mouth, not just the teeth. To support overall oral health, each cleaning appointment includes a check of your bite as well as an evaluation of how you chew and swallow. Any problems noted will be thoroughly explained in order to involve you in creating a treatment plan that you are comfortable with.
After your comprehensive examination, the dental hygienist will begin a thorough cleaning:
Dental cleanings supplement and compliment your normal brushing routine. An important part of each cleaning includes removing tartar, plaque, and stains, both above and below the gumline, that cannot be addressed with brushing and flossing alone.
Fluoride treatments serve the purpose of keeping your smile beautiful and arming your teeth with the tools they need to stay strong and fight back against plaque bacteria. Applied during your cleaning,  fluoride reduces cavities by strengthening enamel and preventing bacteria from sticking to your pearly whites. We encourage all patients to undergo fluoride treatments on a regular basis. They are pain-free, take only minutes and offer significant benefits to individuals wanting to optimize their oral health.
Once your cleaning is complete, polishing gives them that freshly clean and pearly white appearance. Our dental hygienists use a simple, motorized rubber cup and effective polishing compound to remove any final debris, smooth tiny scratches, and surface defects and achieve an amazing shine so you leave our offices smiling ear to ear.
Some of our patients require extra attention, beyond the traditional cleaning procedure. When necessary our team will recommend sealants and/or denture adjustment as a part of your treatment plan. Applying a sealant will close up small cracks and fissures and prevent bacteria from taking hold. Dentures that fit right keep the mouth healthy, encourage you to smile and create a more attractive, youthful appearance. Our patients who wear mouth guards or other prosthetic equipment receive additional personalized care that includes cleaning their appliances and checking the fit to make sure it is comfortable and continues to support their oral health care goals.
After the Cleaning
The care we provide patients extends beyond their visit, and we want each one to return home with the advice and education necessary to maintain a healthy smile. To meet this goal, the Oso Marguerite Dental Team may evaluate your oral home care routine and provide education on how to properly brush and floss the teeth. If necessary, nutritional recommendations will also be provided. For your convenience, our team will assist in scheduling any follow-up visits or your next cleaning and can even refer smokers to a cessation program.
Our comprehensive dental cleanings and exams are part of basic oral care and the easiest way to keep your mouth healthy and your smile looking it's very best.
Frequently Asked Questions
How often should I schedule a cleaning appointment with Oso Marguerite Dental?

The answer to this depends on the health of your gums. For most individuals, Oso Marguerite Dental recommends cleanings once every six months. In some cases, annual cleanings may suffice. For certain individuals, more frequent cleanings may be necessary to address advanced gum disease and tartar build-up.

Why are teeth cleanings necessary?

Regular cleanings help to keep your mouth, teeth, and gums healthy. Additionally, seeing your dental hygienist may prevent tooth loss and even assist you in preventing more extensive health conditions including heart disease, dementia, and complications from diabetes. This makes visiting Oso Marguerite Dental an integral component in any holistic health care plan.

What are the at home recommendations following a teeth cleaning appointment?

Oso Marguerite Dental's team of professionals will provide you with information to continue the care of your teeth at home. This will include brushing and flossing twice a day, eating a healthy diet, limiting your intake of coffee and soda and not using tobacco products. Any additional care recommendations will be thoroughly discussed following your appointment. Please use this time to ask any questions or discuss any concerns.

How do I schedule my cleaning appointment?

Simply call Oso Marguerite Dental, and our front office staff will work with you to schedule a convenient appointment that easily fits into your schedule.